-The old ruleset applies: the rolls are 1 to 100 even rolls are a success, uneven rolls are a failure.
-Characters are allowed 1 free action, but must otherwise stick to their movepools.
-Instead of VIRTUE and VICE, the adventurers have WILLPOWER and the midara have STAMINA.
-Encounters that use characters from the OpenRPG may cause a re-appearance of said midara, depending on outcome.
Paralyzed Status- Character will be unable to move next turn and will be unable to dodge the next attack
Charmed Status- The next attack dealt by the midara does +1 Willpower damage
Bind Status- Character will be unable to move and continually suffer 2 Willpower damage each turn unless they roll a 50 or higher and escape
Downed Status- Character's next action is skipped, allowing their opponent to attempt a follow-up
Dazed Status- Character must roll two successes instead of one in order to hit
Even rolls higher than 85 are considered critical and allows the attacker to follow up with another move
Odd rolls lower than 14 are critical failures, allowing the opponent's next attack to be a guaranteed success
____________________________________________________________________________________________________________________________________________
Nui Harime, the Grand Couturier
Appearance: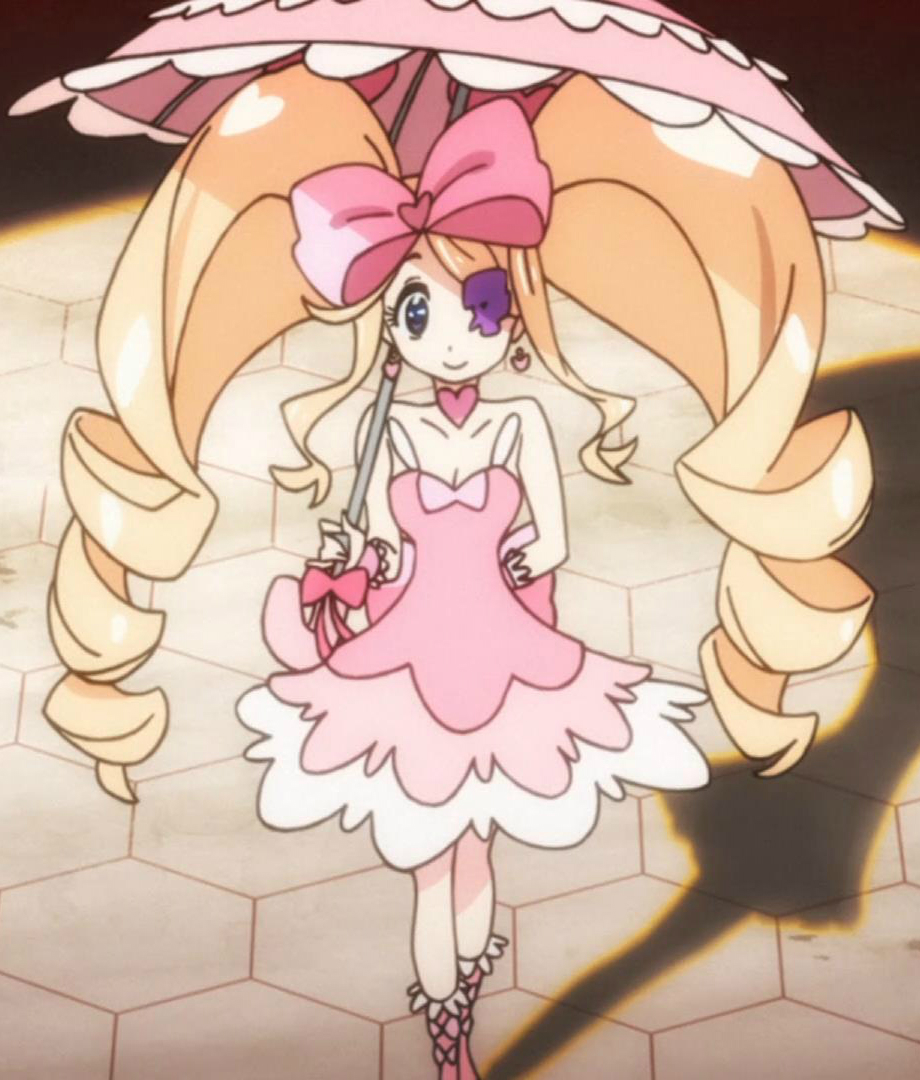 Description:
Nui is a carefree, happy-go-lucky girl with a sadistic streak that would make even the most masochistic to think twice. Generally, she does whatever she pleases, and lets everyone else deal with the consequences. However, if the consequences do ever hit her, she is the last person to blame herself, and will generally hold a grudge against whomever it is that she feels is to blame.
Passive(s):
Life Fiber Regeneration: Unless she has been hit by 2 attacks in the previous 2 turns (multi-hit attacks count for this purpose), she will regenerate 1 stamina every turn.
New Status Effect(s):
Nude:
Any material based abilities (silk, life fiber, etc) deal an additional willpower damage. Any effects the target gets from wearing armour are now removed. Additionally, the target is now open to "Dress-Up" attacks. Target may spend a turn redonning clothes, or armour, if there are replacements nearby (no failure chance).
Mental Bind:
Target skips their next turn. After the skipped turn, target may not act unless they roll a 50 or higher, and escape the mental bind.
Kamui:
Target loses 2 willpower at the end of their turn, but all their attacks deal an extra 1 damage (stamina or willpower). The target may take an action to attempt to remove the robe. Making the attempt alone deals 1 willpower damage to them, on top of the 2 they take at the end of the turn if they fail. If they succeed, they are inflicted with the Nude status.
Moveset:
Standard Abilities
Banshi Plucking:
"Go back to being a naked monkey, sweetie~"
Nui finds the weakness in any form of clothing or armour, and removes them with a single pluck.
Deals 2 willpower damage, and inflicts the Nude status. This attack can only be used on someone who does not have the Nude status.
Mental Refitting:
"Let's fit your mind for a new purpose~"
Life Fibers extend from Nui's fingers, and invade the mind of the target, tying it up for a new purpose.
Deals 2 willpower damage, and inflicts Mental Bind status.
Time for a Change:
"A new day, a new outfit~"
Nui creates a new dress for herself, and begins to undress, before putting on the new dress, all with remarkable speed. All onlookers see a momentary flash of her naked body.
Deals 3 willpower damage, and inflicts Charm status.
Measuring Up:
"Time to take your measurements. Stand still please~"
Nui pulls out a measuring tape, and closes the distance to her opponent. She gently strokes her opponent's erogenous zones, as she gets their measurements.
Deals 4 willpower damage. May only be used on someone who is unable to act (Paralyzed, Critted or Mental Bind). Unlocks Dress-Up Abilities.
Quick Kiss:
"I wonder how your lips feel..."
Nui leans forward, and plants a light kiss upon her opponent's lips.
Deals 2 willpower damage, and inflicts Paralyzed status.
Material Based Abilities
Mon-Mignon Prêt-à-Porter:
"It looks like you are outnumbered *giggle*"
Nui creates a number of duplicates of herself out of life fiber. They all charge forward, and pull the target to the ground, then begin to run their soft fingers up and down the target's body.
Deals 2 (3 if Nude) willpower damage, and inflicts the Bind status.
Life Fiber Caress:
"*sigh* Doesn't it just feel... wonderful?"
Nui summons a small piece of life fiber to fly towards her opponent. It lightly caresses the target across they body, causing them to shiver in pleasure.
Deals 4 (5 if Nude) willpower damage.
Softest Kiss:
"My heart is yours *giggle*"
Nui blows a kiss at her opponent, and summons a life fiber heart from her lips. It moves slowly towards her opponent, as they watch it, mesmerized. Then it hits them on their chest.
Deals 3 (4 if Nude) willpower damage, and inflicts Charm status.
Dress-Up Abilities
Killer Dress Code:
"Ahh... now doesn't that look better?"
Nui stitches together a special life fiber robe for her opponent, and envelops them in it.
Deals 2 willpower damage, and inflicts the Kamui status.
All For One:
"Don't you want to feel what it's like inside me? I'd like to feel you inside too~"
Follow up to Mon-Mignon Prêt-à-Porter. If the opponent is still bound, she walks forward, and begins to straddle her opponent, leaning down to kiss them. As she kisses them, she slips some life fibers from under her tongue into her opponent's mouth, and forces them to take it into them. The life fibers bind her opponent's brain, forcing them into a state of bliss. She then begins to rub her opponent's body and uses the life fibers of her clones to make a perfect outfit for her opponent.
Deals 3 willpower damage, and inflicts the Kamui and Mental Bind statuses. Only usable on an opponent who is bound by Mon-Mignon Prêt-à-Porter.
Finishers
COVERS:
"Do not try to resist... I promise that it feels good~"
Nui summons a Cloth-form COVERS to envelop them opponent. As they are surrounded by the warmth and softness of the material, they give up the last of their resistance, taking their place as a human-form COVERS.
Finishes target. May only be used on someone with 3 or less willpower, inflicted with the Nude status.
Purity:
"I'm so jealous of you! It must feel amazing~"
The Kamui being worn by the target takes over, rewriting the mind and memories of the person inside. Their fear and hatred of Nui converted to love and need to serve her. They take pleasure in servicing Nui, and sometimes she may even return their feelings. At least, until the next person of interest appears.
Finishes target. Automatically happens if willpower hits 0 whilst opponent is inflicted with Kamui status.
Personal Style:
"Do you really hate me that much? You know, love and hate are two sides of the same coin~"
Nui uses her mental refitting in a more permenant capacity on her opponent, changing their hatred of her to love. Impressed by how they managed to remain clothed throughout the entire fight, she takes them as her own personal assistant, and allows them to keep their clothes as they are.
Finishes target. May only be used on someone with 3 or less willpower, without the Nude status.
____________________________________________________________________________________________________________________________________________
Appearance
Liselle is a slimegirl that generally takes shape of a 5'5" woman that is is entirely dark red, her liquid form is constantly dripping is it holds a human-like shape shape.  Due to this, there aren't a lot of clothes that she can wear that would either fall through her or vice versa except for liquid repellant clothes.  Her eyes are white with purple pupil but the rest of her face is red including her small nose and full lips.  Her "hair" drips down only up to her shoulder and falls within her shoulders.
Her body widening into a pair of shiny C cup breasts tipped with nipples.  Her legs are also similarly smooth, seek and shiny, due to her flowing nature.  She has no feet though as her legs end in a puddle underneath her.  Although her natural form is red, Liselle is able to change the color of her body, even transparent so that she can be much more difficult to see or even notice.
Personality
Liselle is playful and inquisitive which is what lead her to what she does.  Outside of that, she is pretty chipper and is often talking in a happy tone by default.  Treating life as a game of a sort, she goes about careful and obtain items from anywhere whether it is from to abandon settlements, acting like a pool of water while stealing some coins that are dropped for herself.  Liselle is also a bit of a packrat though from the things that she gather, making a stash that can even turn into something like a dragon's hoard but only accessible to her.  She does seem to have a moral limitation as she will not take those that do not have much.
Unlike many of her kind, she does have intuitive and intelligent, leading her to learning to how to use the items she obtain and even be able to craft and build with raw materials.  In fact, she actually made her own home where she stashes her stockpile of items deep underground where only her liquid body can access.
Combat
Liselle doesn't really take fighting seriously so doesn't really aim to hurt anyone.  While not exactly a typical midara that she doesn't have charm ability, she is more than willing to tease and seduce those that stop her with her versatile and feminine body.   Being made of slime has a lot of perks in engulfing and bringing her would-be assailant to a climax.  Her form also makes it hard to harm her.  On top of that, she can virtually reshape herself when damage and regenerate any "wounds".  She also have a rather versatile style instead of just flinging bits of her or her entire body.
Rapid Regeration (Passive)- Liselle can pull herself together from many state of damage with some exception.  She also have a slippery mind that lets her recover mentally.  However, winning games all the time would be boring, she sets a limit of how much she can regenerate before she give the match to her playmate.  However, if she is fear of dying, she will not hold back.  +0.5 stamina/will per turn if she is in genuine danger (most of the time not).
Slime Body (Passive)- Her unique physiology gives or many advances and some drawback.  Physical attacks doesn't do much to her other than distort her form.  Elemental attacks have unique effects on her and some are not what people would expect.  Finally, it is virtually impossible to grab or bind her because...well...she's a slime girl....maybe if you have a giant jar.  
Spoiler:
Kiss- Liselle grabs the other person with half of her body and kisses them on the lips.  -2 willpower per turn, easy to escape binds (roll 2 dice, need one to succeed), and leads to Deep Cherry Taste
Deep Cherry Taste- Liselle slips her
self
tongue in and twines with the other person's tongue and end up drinking a bit of herself.  For some reason, she taste of a mild cherry soda. Sadly she doen't come in any other fruity flavor. -3 willpower per turn, easy to escape binds (roll 2 dice, need one to succeed), and inflects Cherry Addiction for the match: kiss are more likely to succeed (roll 2 dice, one to succeed) and cause -1 extra willpower for the match.  
Slimed!- Liselle throws some of herself at the other person.  When it lands on them, the slime part will move on its own and feel, caress, and grope on whatever part they are attach to.  She also uses this when snatching items far away for hoarding purposes..  -2 willpower per turn.  Must use an action to remove her slime off.
YOINK!- Being a very skilled thief, Liselle can sneak a bit of herself and steal the weapon from the other person.  She is also charming enough to steal hearts as well.  Disables all attacks that relies on the weapon.  Requires one success roll to retrieve from her slime pseudopod.  Can only be used once per match.
Slimeshift- Liselle learn how to shift her body to mimic the physical form of others.  While it gives her great options to escape, it can also be used for offensive and defensive purpose.  The main limit is that  she has to shift into something of the same size.  Mimic target's physical moves.  Mimicked moves can be converted to willpower damage instead of stamina.  Loses this form when using engulf or takes 5 stamina or willpower damage.
Solid
Liquid Snake- Liselle can make herself transparent and blend in with her surrounding.  Requires 2 successful rolls to hit her until next attack.  Next YOINK! is automatically successful.  Can use engulf outside Slippery when wet but requires a  succuess roll.
Slippery When Wet- Liselle can leave a trail of herself in front of behind her that if they step on the trail, she will try to make them fall by sliding under them.  Sometime used to troll hall janitors. Inflicts slipped (1 success roll to get up).  
Engulf- Liselle surrounds all of herself around the other person and tries to engulf them with her slime body while they are down.  She doesn't engulf their face though as she is aware of others' need to breath.  Downed or slipped target is automatically hit.  Binds target.  Enables the following moves: Liselle Spa, and Liquid Pleasure.  Engulf-based moves works independently from Liselle's actions. (last part is experimental)
Liselle Spa- Her entire body, vibrates and form waves and grooves to ease out the tensions (and the will to fight) out of whoever is inside of her.  She would also make a nice waterbed too.  -1 willpower per turn.  
Liquid Pleasure-  With her liquid shifting body, she can touch, caress, kiss, lick, suck anywhere on the person's body, at the same time.  However, such multitasking would also make it almost impossible for her to firmly hold them in her.  How many licks does it take to
get to the tootsie roll center
make someone orgasm?. -3 will power.  Target can automatically escape Engulf.
____________________________________________________________________________________________________________________________________________
It was Nui's day off. A break from the hunting down and enslavement of humans and midara alike to experience the wonderous pleasures of Life Fibers. It wasn't that she didn't enjoy her work, nor that a break was even necessary, but more that she wanted the time to experience how other people lived. Gain experience in the world. Or at least, that was the excuse she gave Ragyo. In reality, she wanted to go shopping. Partly because she wanted to see the amazing designs made by her competition in the world, and partly because she wanted to see her designs in the shops, and see how they suited her. Because of this, she soon found herself surrounded by shopping bags filled with expensive accessories and clothes, half of which were her own design, and the other half that she thought just looked adorable. She happily skipped down the street, paying little heed to the people around her, after all, they were irrelevant to her right now. Perhaps a detour into a side alleyway would make her leisure time more enjoyable. Who knows? Maybe she'd get lucky, and some thug would try and muscle her out of her good. Now that would be entertaining, and a laughable experience.