Greetings,
Whilst I have been viewing this forum for well over a year now and lurking in the shadows, I never had anything worth posting that hadn't already been seen. Now it would seem circumstances have changed, and I will make this one exception to step out of the shadows and share with you contributors what I have found.
Make no mistake this particular entry has been my favourite on this website for a very long time, and finally I can offer some additional material towards it.
So then the topic as you may see is Dark Blood Online. First let's talk a little bit about this game. The games origins appear to be from China (not Korean as I originally thought). And the video in the original post was made when it was in beta. It seems that the game never got past that point, and was scrapped at some point in late 2012. I was pretty disappointed by that news knowing that by far the best kiss attack in any video game was never going to be seen again.
Fear not however, as at some point mid 2014 the game was re released, and offered on Steam as free to play. There isn't exactly a lot of detail as to why this suddenly happened, but from what I can see not much, if anything at all has really changed from that beta, so they may have just released it anyway for the sake of releasing something that had already received a fair bit of work. Now before you quickly go typing this game into Steam, there are a few things you should know. Mainly is that it's a fairly poor game, due to a number of reasons. The first and main reason being is that clearly they have used google translate to go from Chinese to English, and thus a lot of stuff, and even the main storyline as a whole, makes little to no sense what so ever. Secondly, it's pretty boring and easy, with most of the enemies doing little to no attacks at all (that are fairly predictable anyway). It's also very long it seems, with about 4 solid hours of just powering through the stages barely saw me get to level 14 (the certain lady we would like to meet is at 40, and may even require some gear to even remotely get to her, more on her in a bit). Lastly it's very repetitive, and a lot of the stages are exactly the same as each other, just with a slight different objective or a different set of enemy npcs. As far as the actual play style goes, simply mashing buttons whenever they were off cooldown seemed to work quite well (though I must admit this genre of game isn't really my cup of tea to begin with).
So then the fact that there is practically no information online about this game even though it's been officially released for over two months now, kind of implies just how popular it is. However, after doing some searching in Chinese (which no, unfortunately I am not knowledgeable with), it seems that the Chinese version of this game seems to be way more complex, complete, has a proper story, more characters and even cinematics that the English counter part has not been given. It also seems like quite a big thing in China. So keep in mind that a lot of the information that I am about to share about our favourite lady in this case, is somewhat deciphered from Chinese, so may not be 100% accurate, but you can get the idea.
So then onto our charming (quite literally) lady herself. Firstly, she has a name! In the English version she is simply called "Sherpin", which doesn't sound like anything spectacular, in Chinese she is "Shadow Queen Sherpin" (or at least that is what I assume), which sounds a lot more badass! Not only that, she is not just some random npc enemy that walks around, oh no. She is in fact (as far as I can make out) the end boss of the game! Which certainly gives her a +1 to being sexy and evil (This may not be true anymore since it seems they patch the game now and again adding harder and higher level content onto existing ones).
Here she is on her throne (note the extra long hair, this is definitely the same lady we are talking about):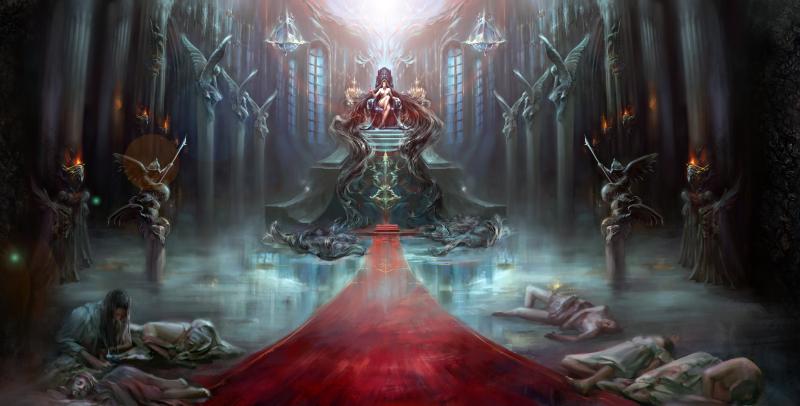 The next image is notoriously large, sorry about that, but the close up and detail on it is absolutely worth it: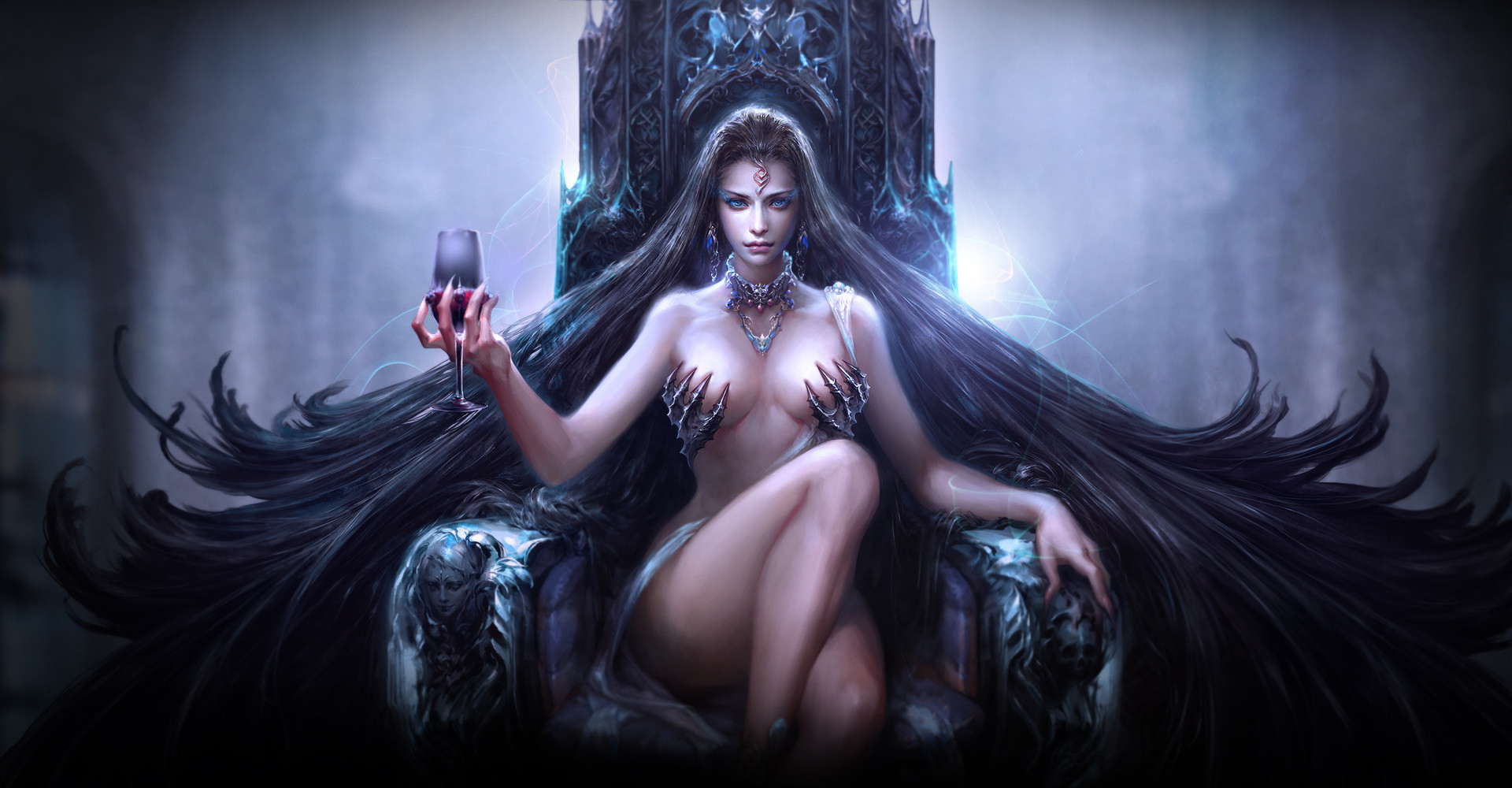 If you want some more pictures of her, and maybe even some additional research on her (have your Chinese to English translator handy though), simply type in "暗影女王" into google, and have a look! There are tonnes of pages about her, that mostly seem to be promoting her addition into the game (probably via a latest patch), and offer some information on our Queen Sherpin's background. From what I gather, she was originally a Paladin, or a Knight of some kind, that fell into a form of affair (possibility lesbian, +1 sexy) that was forbidden, and so she was chained up and essentially somewhat crucified, and sentenced to die. Before this happened presumably the devil or whatever the evil incarnate in this game is supposed to be, saved her, and offered her mighty powers (which we will cover in a minute) in the form of her hair, in order to get her vengeance upon the humans that had condemned her to death. She also seems to have charmed and taken complete control of one of the protagonists (possibly even the player character themselves, it's not too clear), and this keys into the story somehow. She is encountered as a boss in the last level at Quern castle, and when first seen she is standing in the middle of a battle about to start between humans and demons, the humans misinterpret her as a lost naked lady, to which she responds by using her "Nine Tails" attack, and obliterating both armies in one hit. A revived character called Jerony (who I believe is a boss earlier in the game), arrives, and is determined to kill her, she doesn't even flinch and catches the helpless Jerony in her hair, and crushes him.
So she appears as a boss in what was at one point, the last and hardest dungeon in the game. As if she wasn't sexy enough, the fact that an end boss in a game which until now, has you fighting against massive trolls, demons, wolves and other monsters, one would assume some form of Balrog wannabe is going to be the end boss. But no, it's a completely naked, curvy woman, who is no bigger than the player characters themselves, she then attacks you with her hair, and make no mistake, she looks pretty hard. So this next section will be a skill set (these attacks have no names, so I made them up myself), of what she can do, followed by a video in which you can see all these glorious abilities in action, as well as her destroying the party trying to loot her, in the process. Times to when each attack happens in the video that follows.
Shadow Queen Sherpin
The powerful Sherpin sits atop Quern castle, often mistaken as a damsel in distress, due to her lack of clothing, resorting to hair to cover herself. Make no mistake, she is not an enemy to be taken lightly, and has a considerable health pool. Her hair is her main weapon and she will use it to pierce enemies and even burrow through the ground. Although she does have some other cheeky tricks up her sleeve...(not that she is wearing any sleeves, but still)
Hell of Hair:
When surrounded on various sides by enemies, Sherpin will get on her knees, and use her hair to protect herself in a ball shape. The hair she isn't using to protect herself with will then shoot up high into the air, and attempt to crash down and pierce the surrounding enemies, dealing heavy damage to them, and slightly knocking them back.
2:14 & 2:31 (and many more)
Wavy Tangle:
When facing an enemy or multiple enemies that are in front of her, Sherpin will direct her head towards the ground, her hair will then shoot out and tunnel into the ground below her, and bounce in and out of the ground in about a 45 degree arc in front of her. Enemies foolish enough to be caught in this hair trap will take heavy damage for each time they are directly hit, and will be chain knocked back. This attack does however leave her vulnerable to attacks from behind.
2:01 & 2:26 (and many more)
Play Nice:
If an enemy spends too much time close to Sherpin, she may just develop a certain liking for him/her...By swinging her hair in a big bunch, she will trap the enemy hero between her hair, and pull him towards her. As the hero is helplessly trapped she will reach up and place her hands on his/her cheeks in a loving fashion, and then gently pull his head close for a soft kiss. Sherpin's sweet touch will cause the enemy hero to fall head over heels for her, as he/she blushes with pink hearts floating out of their head. The infatuated hero will not then notice that the hair is no longer trapped around them, and once Sherpin is satisfied she will slap him/her, causing them to fly away, dealing damage and getting knocked back into the ground. However once the damage is done, and the hero will now spend the next 20 seconds walking around in a lovestruck daze, attacking his friends and fighting to defend the irresistible nude Queen.
4:08 Happens to the player recording. Who just wonders around not doing a lot.
7:58 Happens to the party player called Gats, who does in fact respond by swinging and thrashing his mates, just moments before her ultimate attack comes in (where the party needs to be at full health to even stand a possibility of surviving). Good on him!
Play Rough:
Sherpin isn't always so soft and loving, if she has need of health and sees a distracted enemy hero, she may just decide to jump in the air and pounce on them, unless they get out of the way, she will latch onto them, and in a playful fashion, pin them helplessly to the ground. She will then tease them by riding them and showing off her voluptuous and flexible figure, before moving her head close to his/hers and surrounding it with her hair, all whilst more strands of her hair shoot up and around and back into the ball, piercing the hero's head. This deals heavy damage and drains the hero's health, transferring it to the Queen, and healing her for a considerable amount of health.
2:06 Talian gets taken for the ride of her life!
6:56 This time it's the recording players turn to be taken for a mount!
9:51 The recording player, being last man standing at this point, and only a few hits away from victory, instead decides to have a little romp with our Queen, sealing the fate of his party.
Every minute or so into the fight, Sherpin will alternate between two ultimate attacks:
Nine Tails:
Sherpin will move to the centre of the rooftop and start giggling and then focus all of her hair behind her, causing it to dance around much like a fox tail, and slowly gather energy. Once charged she will then perform a graceful spin, and shoot up hundreds of individual strands of hair, which will then carefully land, covering the entire battle area, and piercing the skulls of her enemies, generally killing them in one hit. Whilst the charge up time will leave the Queen vulnerable, the sheer devastation she can deliver with this attack will firmly put an end to any loot hungry meddling adventuring heroes.
1:37 & 10:30
Sherpin's Disco Laser:
Sherpin will once again move to the centre of the arena, and this time will put her hands up in the air, and charge up a laser, all whilst doing a sexy dance. The laser will occasionally shoot out zapping nearby heroes for minor damage. While not as devastating as the previous attack, Sherpin clearly enjoys dancing and teasing her enemies, who she could kill with a click of her finger.
3:48 & 5:39
Video:
Whilst not as obvious as the first video linked in this thread, this does show all of the above attacks in action (even if they are a little obscured at times due to the heavy attacks coming in), and is a group genuinely trying to defeat her, and failing miserably in the process, mainly due to our undoubtedly favourite attack on that list.
Lastly I shall leave you with the most glorified appearance of Sherpin I have managed to find (you probably can embed it somehow, but my Chinese isn't great so I'm just giving you a direct link, trust me it's worth it). I'm not sure whether it's a trailer or a cinematic, but it certainly isn't in the English version of the game anywhere. In fact like I said, there is absolutely nothing at all on this game for the English version. But anyway I hope you enjoyed all of that, I always do enjoy a good lore and back story to anything, and take every detail to note, it was nice to finally able to contribute in such a way. I shall not reappear until I have something similarly worthwhile to post, which might be some time away, so now, I shall return to the shadows. Take care, and enjoy this video!
tudou.com/programs/view/mcscoCArumA/
(since I am a recently registered member I cannot post complete links, so just copy/paste that)
Varys,
Master of Whisperers